Mountain Top Arboretum
One of the core jobs of the Catskill Center is that of a land trust.
As such, we protect over 2200 acres of land either by owning the property outright or by holding conservation easements. We hold seventeen conservation easements where the land owners have agreed to give up their development rights forever so that no matter who owns the land in the
future, it will remain wild and natural.
This does not mean a land owner is forbidden to do anything with their land. For example, with some conservation easements a land owner is still entitled to do agriculture or harvest timber.
One of the Catskill Center's conservation easements is on property owned by Meg and Adam
Waldron in East Jewett. They are also big supporters of the Mountain Top Arboretum.
The Arboretum is 178 acres and beautiful mountain top environment for a living sanctuary of
native and exotic trees and shrubs. The Arboretum is currently constructing a unique Education
Center. It is like an old fashioned barn but with a very earthy and natural design.
The building is being constructed without nails and with only mortise and tenon construction.
The trees selected for the Education Center were harvested with the permission of the
Catskill Center, under the provisions of the Conservation Easement, from the property of Meg
and Adam Waldron.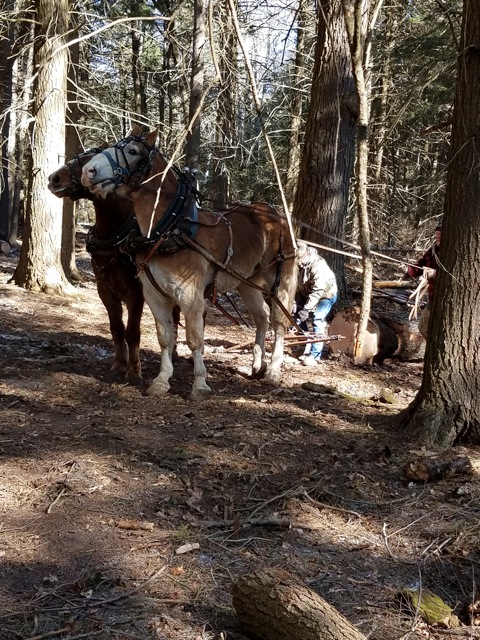 To minimize the impact to the land, the cut trees were transported out of the forest by a team of draft horses. The Catskill Center is proud that it could support the efforts of the Mountain Top Arboretum, with whom we have worked on other projects, and still fulfill our duty as stewards of our conservation easements.
You can learn more about the Mountain Top Arboretum's new Education Center at:
https://www.mtarboretum.org/articles/2017/3/11/new-building- is-a- natural-fit- at-arboretum
You can learn more about conservation easements by calling me, Land Trust and
Stewardship Manager Michael Drillinger, at the Catskill Center, or by sending me an email:
mdrillinger@catskillcenter.org.