Please note, this workshop will take place at Willow Drey Farm, 985 Hyzer Hill Rd., Andes, NY!
Art is a Living System Workshop
The Catskill Center will host "Art is a Living System", a workshop led by Lisa Jacobson, where we will be composing a watershed story--a living system–-alive, evolving and sustainable. Please note, this first workshop is presently full. A second workshop is scheduled for the spring and is currently being planned, to be announced in early 2017 (sign up for the Catskill Center monthly email newsletter at CatskillCenter.org/contact for details). Together through your unique expressions and experiences you will be revealing detailed information about every other element in the universe. We will be writing, drawing, painting and assembling using old beautiful books.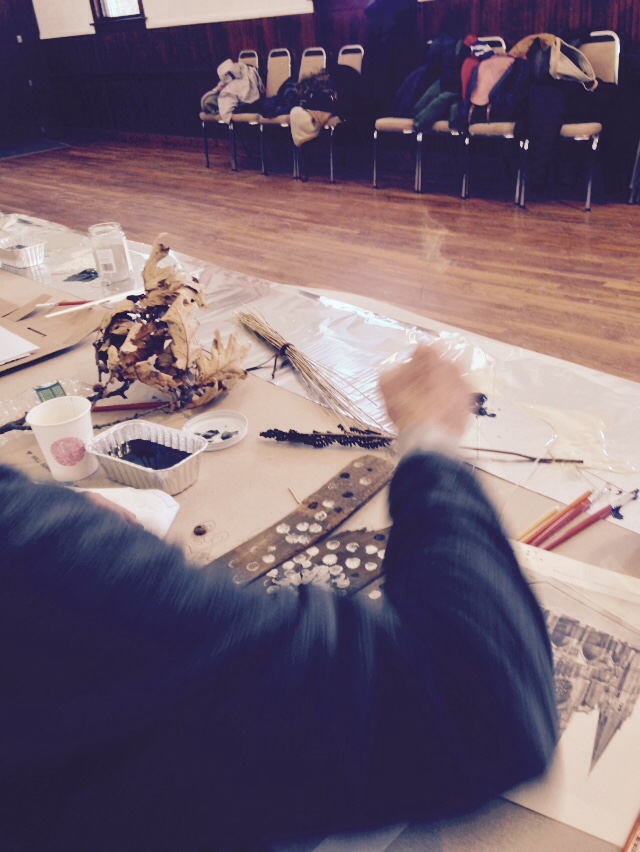 Utilizing the premise that art is a living system–alive, evolving and sustainable. It is fundamental to the way human beings communicate literal and abstract concepts, preceding the development of both oral and written language. Given that art as a living system is at the very core of the way humans think and communicate it can be utilized as a unique and superior method of teaching about other living systems.
This project is funded in part by a Watershed education grant from the CWC in partnership with the NYC DEP

.
Lisa Jacobson, facilitator
Founder of MayBeArt.org Utilizing the premise that art is a living system–alive, evolving and sustainable. It is fundamental to the way human beings communicate literal and abstract concepts, preceding the development of both oral and written language. Given that art as a living system is at the very core of the way humans think and communicate it can be utilized as a unique and superior method of teaching about other living systems. Art is a sustainable technology. An example of one human communication/ living system within a network of systems modeling how all of nature is working. Her research was with Brian Greene, Nadrian Seeman, Stephen Harrison and F. David Peat. She is a painter, radio host and learner of all exemplars of teaching people what's happening on earth right now.
David Bartlem
Founder of Craig Hill Farm Biomass Incubator and Learning Center Craig Hill Farm, is dedicated to "real world" experiments in what the average property owner can do to maximize biodiversity and biomass. Understanding that plant (autotrophic organism) biodiversity is the foundation for maximizing biomass and energy transfer pathways, Craig Hill has been working to maximize the biodiversity of the plant communities on this 135-acre former sheep and dairy farm since 2002. David has been a passionate environmentalist since he was a child. He earned my BS from Cornell University in Landscape Architecture with an emphasis on large-scale environmental planning; graduating with distinction and a GPA of 3.84. After several years working as a Landscape Architect for companies like I.M. Pei & Partners, Farmington Industrial Parks Corporation and Engel GGP, doing site sensitivity analyses and design for projects ranging from high-density planned residential developments, to a 700 acre IBM complex in Armonk, NY, he earned an MBA in Marketing and Communications from Columbia University. I worked for the next 20+ years in the advertising, marketing and communication fields, beginning in account management and working my way up to senior management for multi-national advertising agencies and marketing/communications companies.
Marguerite Uhlmann-Bower
NYS lic. R.N., traditionally trained Herbalist & Wild Foods Educator, was a medical surgical nurse for both Walton and Bassett Hospitals, and a Public Health Nurse before its doors closed. She loves upstate New York's natural resources and believes our wellness is in direct relationship to the wellness of plants and environment. Plants do better - We do better, is her motto. After a life changing accident, she shifted her focus to bringing people to the plants. This common thread is in all her plant walks from summer to winter, teaching weed identification, human-plant inter-dependencies and how plants are sophisticated, self-aware organisms. Her classes inform, educate, are hands-on and evidenced based. Music of the Plants technology and her sound experiments inspire positive earth giving behaviors through touching the heart, she teaches the mind. She also consults for people wanting to eat healthier through nutrition and weeds and teaches them how to craft weeds into stored nutritionals and winter food. She is finishing a comprehensive exhaustive book called Weeds for Wellness – the Next Generation, a 400 page book of wellness strategies, identification features, 200 weed recipes and 130 northeastern plants, (incl. trees, lichen, and mushrooms). And, on October 8th, 2016, she co-launched a Facebook group called Plant Pioneers as a collaborative discussion platform that works to benefit plants and Nature in innovative ways, aimed to reach youths and urban zones to the uninformed through creative, multi-media venues.
Jennifer Grossman
With more than 20 years of strategic environmental legal work in both the public and not-for-profit sectors, Jennifer is a conservation consultant in her own firm and working with the Natural Resources Defense Council designing a New York Regional Food Initiative to establish sustainable economic growth via local agriculture and forging collaborative platforms between rural and urban communities. She is the founder/president of FarmCo, a Catskill-based company creating economically-viable and environmentally-conscious family farm business ventures and a founding partner of Longdrift, an ecotourism company providing unique angling adventures in Argentina.
Jennifer previously was for 11 years Vice President for Land Acquisition of the Open Space Institute, where she oversaw a multimillion-dollar budget preserving more than 100,000 acres of critical natural landscapes throughout New York State. While at OSI Jennifer focused on creative farmland and watershed protection projects through partnerships with government, landowners, academic institutions and other NGO partners. From 1993 to 2000, Jennifer was a Senior Attorney at the Office of General Counsel for the NYS Department of Environmental Conservation, serving as lead counsel for the Lands & Forest Program and also counseling on hazardous waste and pesticide matters.
Jennifer sits on the board of the Norcross Wildlife Foundation, the Atlantic Salmon Federation, the Solution Project and the Catskill Flyfishing Center & Museum. She serves on the Conservation Easement Committee of the Watershed Agricultural Council and the Sullivan County Legislative Agricultural Sub –Committee and is an advisor to Columbia University's Earth Institute.
Jennifer holds a J.D from Boston University School of Law and a B.A. in English Literature & Rhetoric and Political Science from Binghamton University.
Deirdre Larkin
Deirdre Larkin is a horticulturist and historian with a special interest in the magical, medicinal, and ceremonial use of plants. She holds an MA from Princeton University in the History of Religions and received her horticultural training at the New York Botanical Garden, where she was also an instructor from 1991 until 2011. She was advisor on plants and gardens to the Center for Medieval Studies at the Pennsylvania State University from 1998 until 2008. Deirdre was formerly Managing Horticulturist at The Cloisters Museum & Gardens, home to an extensive collection of both medieval art and plants. She has been associated with the gardens there since 1991, and was the originator of and principal contributor to The Medieval Garden Enclosed blog, published from 1998 through 2013, and now archived on the MMA website athttp://blog.metmuseum.org/cloistersgardens/ Deirdre lectures frequently for museums, historical societies, and horticultural organizations.
Sue Clark
Bachelor of Science in Politics and Sociology (Honours), Masters in Tourism Development, Bovina Mountain Consulting. A tourism industry professional who has worked with communities and protected areas all over the world to help create place sensitive and sustainable tourism for more than 25 years. Sue is also an academic working with students across the globe on cultural, social, economic and environmental issues related to the impacts of the tourism and the hospitality industries. Sue isa Board member of The Catskill Center For Conservation and Development.
Steve Burnett
Owned and operated a marketing/design business specializing in the financial services industry from1979-2016. He had offices in New York, Zurich, Charlotte NC and Bangkok. He is a life long watercolor/illustrator while currently an organic farmer in Bovina NY. Steve is also on the board of the Livestock Foundation and Farming Bovina an elder at the United Presbyterian Church of Bovina and is a director on the board of The Delaware County Electric Cooperative. Whether he's picking up a paintbrush, harvesting a crop, or putting the finishing touches on a winning logo, Steve is constantly in the act of creation. At his New York design firm, Techno Wizards Click and Drag, Steve's drafting table is outfitted with watercolors and wet brushes and large scale lyrical iron sculptures. At home on his organic farm, Burnett Farms, Steve appreciates the pattern language that emerges all around him. "There's light splashing over the same landscape, endlessly renewing it."
David Covell
David Covell has over 20 years building brands with strategic design.
He began in 1990 as a Senior Designer at JDK Design and stayed for a decade, taking a break in 2000 to work as a freelance design director. He rejoined the studio in 2004 as Creative Director and opened the JDK Design NYC o ice. David's extensive design experience covers an array of clients and audiences, from Burton Snowboards to the Wall Street Journal and youth culture to corporate businesses. His cross-media work includes projects such as brand identities with complete visual vocabularies, to packaging, to instore POS, and even some advertising and film. Beyond creative direction, he has written brand strategy, par- ticipated in brand architecture, written copy, naming, and taglines. Most recently, at JDK New York, David has worked with Microsoft Xbox, Virgin Mobile, HBO, Woolrich, Levi's, and Nike. A graduate of Carnegie Mellon University (Pittsburgh, Pa.), David has had his work recognized by numerous design organizations, including I.D. Annual Design Review, Type Director's Club, and Communication Arts and Design Annual. His work is also included in the permanent collection of the Cooper-Hewitt National Design. He is also a published children's book author and illustrator.
Kristie Burnett
Kristie Burnett has taught elementary students for the last ten years in the New York private school system. She manages and works the family organic farm, Burnett Farms using sustainable biodynamic practices. She is a devoted meditator and believes that a stillness and sitting practice calms the mind and opens the heart. The social, emotional, and environmental challenges in the world inspires Kristie to teach, farm and meditate.
Erica Dorn
Erica Dorn is Managing Director at the Good Work Institute, where she choreographs experiential and participatory business leadership programs. Erica champions 'deep scale' in business - she believes we can all contribute to building inclusive, compassionate economies that improve our collective future by uplifting diverse and locally-owned businesses. Erica's led a mission-driven career working in U.S. microfinance, community economic development, and small business education. erica@etsy.org
Roz Foster
Roz Foster is a literary agent with the Sandra Dijkstra Literary Agency. She's also a freelance editor. As an agent, she's specializes in non-fiction in the areas of history, politics, current affairs, sociology, cultural studies, urban studies and memoir. A graduate of UC San Diego, she holds a BA in English literature, studied philosophy at the University of Sheffield, UK, and earned her MA in English with an emphasis in composition and rhetoric and creative writing. She lives and works from the Catskills of New York.
Fernando Delgado
Fernando Delgado is an entrepreneur, linguist, and information scientist with 15 years experience designing and implementing disruptive technologies for Fortune 500 and AMLaw 100 firms. His current practice focuses on introducing artificial intelligence and related data analytics into the work of traditional white collar professionals. As such, his work blends computational technical expertise with methodologies derived from the behavioral sciences, services design, and organizational management fields.
Fernando holds degrees in literature from Paris IV, linguistics from the University of Illinois (Urbana-Champaign), information systems from DePaul University (Chicago, Illinois), art history from the Jnanapravaha Institute (Mumbai, India), and organizational change management from The New School (New York, NY).
Yemena Sanders
I was born and raised in Switzerland, worked for four years as a taxidermist in the natural history museum in Bern, travelled extensively and lived in Asia for two years and by age thirty moved to USA, had three kids, Jessamy ,Shawnee and Sita.
Now I live in a strawbale house in East Meredith NY, totally off the grid, solar panels on the roof (a dream I had since the early seventies). My biggest motive is how to become an authentic being, shedding cultural conditionings and fears which hold us away from being really awake and compassionate.
Jeff Senterman
Jeff joined the Catskill Center in 2015 after working for the New York-New Jersey Trail Conference as the program coordinator for the Catskill region and manager of regional trail programs. In addition to bringing non-profit, environmental planning and office management experience to his post, Jeff has had the experience of growing up and working in the Catskills and time in both rural and urban New England regions. Jeff has worked as an environmental planner for the Maine Land Use Regulation Commission; Massachusetts Aeronautics Commission; and for Waterman Design Associates. He also worked as a New York State Dept. of Environmental Conservation assistant forest ranger in Greene County. Jeff is an avid hiker and outdoorsman who has spent a lot of time hiking and exploring in the Catskills, Adirondacks, and New England and currently serves on the Board of Directors of the American Hiking Society and the New York-New Jersey Trail Conference. He holds a Bachelor of Science degree from Lyndon State College in Vermont, with a concentration in environmental science.
Erik Johanson
Conservation and sustainable development have both been Erik's passions since volunteering under the redwoods of the John Muir National Monument with the Student Conservation Association as a young high school student. Erik's managed teams, offices and organizations in environmental advocacy, sustainable development and a variety of arts groups, not to mention stints in Alaska and sailing through the Sargasso Sea. Working with National Wildlife Federation, Sierra Club and NRDC, Erik has continuously worked to protect our environment. Erik spends most weekends hiking with his two pups throughout the region. He graduated from Eugene Lang College The New School for Liberal Arts with a BA in Science, Technology and Society.
Darwin Johnson
Darwin M. Johnson is an IT Consultant working in the Catskills. He moved here full-time from Brooklyn 2 years ago, but has been spending time in Delaware County for the past 9 years. Darwin studied Physics at the University of Iowa and has been working as an IT Consultant for the past 15 years. Darwin served as the IT Directory for the Somaly Mam Foundation before his move to the Catskills. Darwin likes to make experimental banjo music in his spare time and hang out with his cat Sydney.
Lori Robin
Lori Robin was trained In Great Britain and on the continent in the art and craft of Carving and Gilding and the Restoration and Conservation of Wood, Stone and Allied Polychrome materials. Her technique is characterized by extreme technical skill and a certain sense of a distinctive haunting beauty reflected in art as early as Romanesque and as late as the early 19th century. Traditional studio method required rigorous study in a complex series of processes. This value system of practice was a reflection of environmental changes in European history, as the Renaissance marked major changes as a way of life. Lori's affinity with techniques of that time mirroring standards to achieve mastery, exemplifies a direct consequence of her love of life and interest in one's environment. Her deeper insight into a continually changing world has oriented her intrinsic way of thinking about work such as her translations from Medieval recipes to working recipes to re-organizing the alchemy of mediums of elixirs, plant-based, gums, resins as well as potato starch, sottile gessos. Her work as a gallerist in England threaded these values in the creation of Bespoke Frames translated " to speak for", a relationship between the aesthetic of the artists work and the art of a frame in unison. This method of design adapts architectural elements using traditional sensibilities with modern aesthetics. While Lori is not from the Middle Ages, she continually performs the science of processing and transforming something, always aligned with our present dynamic. Her most current and successful invention is Cheezehound, a vegan artisan cheese company named after her beloved Neapolitan Mastiff, Verdi. Cheezehound models an equanimity in an often unsettling assignment of different values solely on the basis of a species membership. Her masterfully hand made product, made from scratch with organic ingredients, models the ecological embeddedness of all species by virtue of creating delicious healthy food while lowering greenhouse gas emissions."I've turned C17 gesso and lacquer recipes into legible, usable, modern-day recipes. In effect, it's the same. It's all alchemy, that's how I see it. It's just recipes." cheezehound.com
Paradigm Shifters/Workshop Influencers
James MacAllister
James MacAllister is an award-winning script writer and director of programs in medicine and science. His documentaries cover an eclectic mix: art, biography, performance, extreme sport, pedagogy and pollution. He worked with visionary biologist/evolutionist Lynn Margulis for ten years creating teaching materials for her pioneering classes in Big Earth History and Earth systems science. As one of her teaching assistants he earned his Master's of Science and became a Fellow of the Linnean Society. He is a volunteer archivist for the Lynn Margulis Digital Archive, produces the quarterly Environmental Evolution newsletter (www.envevo.org) and is collaborating with Bruce Scofield to present an online version of Margulis's Environmental Evolution course. He has spoken on the paradigm shift in science that Lynn Margulis provoked at the Association of American Geographers (AAG) and the European Society for Literature, Science and the Arts (SLSAeu).
Lynn Margulis
Lynn Margulis championed the microcosmos and fundamentally changed science. She recognized how our "species specific arrogance" distorted science and resulted in our suicidal destruction of our life support system, the Earth system (Gaia). Explore her systems science from "bacteria to biosphere" that fostered the fields of Astrobiology and Earth systems science (ESS) and caused the paradigm shift underway in medicine, biology and evolution.