A NATURAL AND UNNATURAL HISTORY OF THE CATSKILLS: A FOREST TIMELINE
Michael Kudish, PhD, Professor Emeritus, Paul Smith's College
Some people consider human effects on the landscape as part of natural history, but this writer prefers to keep the natural and unnatural (i. e. human) history separate because of the very different nature, and greater degree, of forest disturbance caused by people. This brief history is written more from the viewpoint of the forest itself, and less from the human viewpoint expressed in most historical writing. The Catskills, as defined geographically by this writer, extend greatly beyond the Catskill Park Blue Line, especially on the west and north. This brief history therefore includes lands as far as the West Branch Delaware River and as far north as the Manor Kill.
Sometime between 15,000 and 14,000 years ago, the Wisconsinan ice sheet covering the Catskills was melting. By 14,000 years ago, the vegetation was probably still Arctic tundra, because no tree fossils have yet been found preserved in bog peat. But by between 13,900 and 13,700 years ago, forests must have moved in rapidly because balsam fir, red spruce, eastern hemlock, and yellow birch were all here and in abundance. Whereas hemlock and yellow birch were uniformly distributed throughout the region, balsam fir and red spruce were not; these two conifers invaded the eastern and far western Catskills having bypassed, in large part on their postglacial march northward, the central Catskills: the East Branch Delaware Valley and its adjacent ridge lines.
Early fossil evidence for northern hardwoods is thus far very sketchy. Beech and black cherry were here almost 8000 years ago, but most likely arrived a few millennia earlier along with sugar and red maples.
In the Catskills, there were several dozen small lakes and ponds that no longer exist. Fossil seeds now preserved in peat show that aquatic plants soon moved in. Mainly between 10,000 and 5,000 years ago, the open water in most ponds disappeared as forested swamps and bogs developed.
---
Human effects first began to be felt along the Escarpment and in the Ashokan Basin as Native American populations increased in the adjacent Hudson Valley sometime between 7,000 and 5,000 years ago. Their frequent fires began to sweep up into the adjacent mountains and converted the northern hardwood forests into southern hardwood forests; the latter consist primarily of nut trees – oaks, hickories, chestnut, and a shrub: mountain laurel. Repeated fires locally in the interior may have come later, the northern hardwood forest having been converted to the southern hardwood forest along the Esopus-Birch-Vly Creek corridor and the East Branch Delaware River corridor perhaps between 4,000 and 3,000 years before the present. Southern hardwoods therefore follow people.
With the advent of Native American agriculture on flood plains sometime between 1,500 and 1,000 years ago, even more fires might have escaped up adjacent slopes. In addition, it is possible that nut orchards were planted. Nuts can also be flown in by mast eating birds.
Settlement by Europeans was early in the Hudson Valley – beginning in the 1600s, moving very slowly and locally westward into the Catskills through the early- and mid-1700s. After the American Revolution, Europeans began moving into the mountains in increasing numbers. Native American populations decreased between the 1770s and 1800, along with their frequent burns. However, some Europeans continued the practice of burning the woods in the Ashokan Basin and along the Escarpment through about 1900, commonly to promote blueberry crops.
European industries invaded the Catskills, each industry disturbing the forest in its own unique way. Settlement and agriculture were first, increasing during the first two decades of the 19th century. Farming for crops and pastures meant forest removal. Lumbering was done for houses, barns, mills, factories, and other buildings.
The tanning industry also created a major disturbance in the forest from about 1800 through 1900, many hemlock stands having been harvested for their bark for leather manufacture. Contrary to common belief, the Catskills were not all hemlock prior to 1800 and nor were all the stands removed; some original first growth stands still remain in remote areas, and second growth stands are abundant.
We can best learn about the industrialization of the Catskills by studying the railroads and the commodities that they carried. Railroads first penetrated the Catskills in the 1870s, reached their peak about 1910, declined, and ended in the 1970s. An expanding highway network has replaced the railroads in carrying freight and passengers. While coal was the largest commodity imported, a variety of Catskills products was both used locally and exported: dairy, ice, cauliflower, lumber, furniture, charcoal, and bluestone.
The Catskills had become a tourist destination as early as the 1820s, but travel by steamboat and stagecoach was slow and difficult. Once railroads served the Catskills, passenger travel became much faster and easier both for local people and for the large influx of mainly summer visitors from the New York City, Philadelphia, and Boston areas. Hotels, boarding houses, and other tourist attractions grew at a rapid pace. Private fishing, hunting, and summer residential clubs were established. Many of the large hotels have since closed, having been replaced by motels, bed and breakfasts, campgrounds, and weekend/summer homes.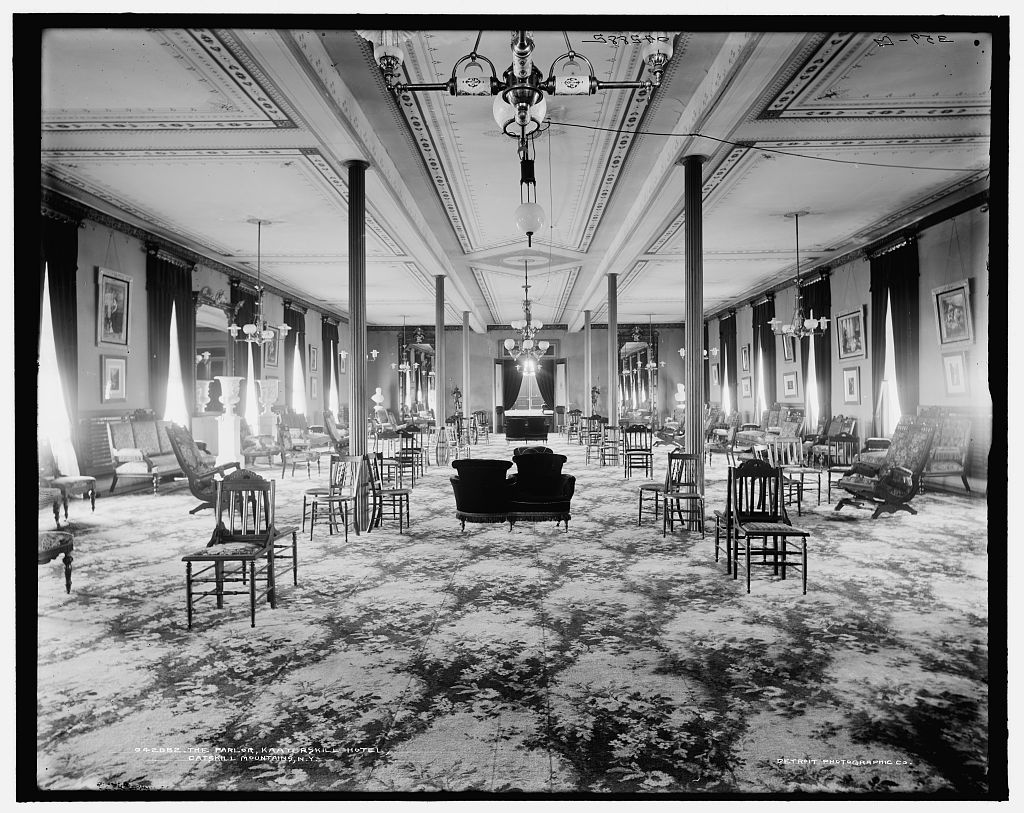 ---
The forest preserve was established in New York State in 1885, although the Catskill Park was not created until nineteen years later. By that time a considerable amount of land had already been acquired by the state. After 1904, within and beyond the Catskill Park boundary (the Blue Line), land acquisition by the state accelerated further through the 1920s and 1930s and then decelerated.
On these state lands, especially beginning in the 1920s when highways were improved and automobiles became plentiful, recreation became increasingly popular: hiking trails, ski trails, lean-tos, and campgrounds.
New York State began a vigorous program of forest fire prevention and control in 1909. A series of fire towers grew atop Catskills summits, five of which remain today resurrected as tourist attractions. The frequency and severity of fires is today not anywhere near where it had been in the 19th century.
Reforestation, primarily on abandoned pastures and seldom on burned lands, began in the 1890s as tree plantations. Reforestation peaked in the Civilian Conservation Corps era in the 1930s and 1940s, and many more plantations were put in through the 1960s.
First growth forest – that which has never been logged, barked, farmed, quarried, or burned by fires set by people – still exists in the Catskills today in abundance. It is found on more than fifty tracts totaling about 105 square miles (about 67,000 acres), from two tracts of about 25 square miles each down to parcels of only a few acres. The vast bulk of this virgin or primeval forest lies above an elevation of 2,800 to 2,900 feet.
The effect of disturbance on forests is by no means restricted to humans. Natural disturbances also play an important role and have for millennia in shaping forests: wind blowdown, ice rime, heavy wet snow, droughts, floods, beaver meadows, landslides, lightning fires (minor), and defoliation from native insects.
There are also forest disturbances that are introduced by people and then invade further on their own. In the early 20th century there were the gypsy moth, chestnut blight, and Dutch elm disease. Today we battle the emerald ash borer, hemlock wooly adelgid, and a number of invasive Eurasian herbs which displace our native plants.
The greatest threat by far to the Catskill forest today is not human development or logging for lumber or firewood, but forest diseases and defoliation.
About the Author
Michael Kudish began his study of Catskills forest history with a dissertation, Vegetation of the Catskill High Peaks, at the New York State College of Forestry at Syracuse, now ESF. This thesis grew into a lifelong study with a number of publications along the way including two books by the Purple Mountain Press The Catskill Forest: A History, and Mountain Railroads of New York State, Volume IV: Where did the Tracks Go in the Catskills? (2011). Numerous articles have been written for Kaatskill Life magazine, the Catskill Forest Association's newsletter CFA News, and The Catskill Center's newsletter.
Michael Kudish is Professor Emeritus from the Division of Forestry at Paul Smith's College in the Adirondacks. He also studies and writes on the history of that region's forests.